The Pirates of Penzance
Gilbert and Sullivan
Opera Season, Performance
Performance Language
English
The Pirates of Penzance is a comic opera in two acts, with music by Arthur Sullivan and libretto by W.S. Gilbert. Beloved since its premiere in 1879 by audiences and critics alike, this delightful piece became an instant classic that is fun for all ages. Set on a rocky coast of Cornwell, England during the reign of Queen Victoria, the plot boasts sentimental pirates, blundering police officers and absurd adventures! The beauty, wit and whimsy of Gilbert and Sullivan's melodic score combined with the many memorable characters make The Pirates of Penzance a musical comedy masterpiece that is not to be missed!
Music by Arthur Sullivan and libretto by W.S. Gilbert
"The Pirates of Penzance" is a beloved classic fun for all ages.
January 20, 2022 7:30 pm - 8:30 pm
January 21, 2022 7:30 pm - 8:30 pm
One of Gilbert and Sullivan's finest, The Pirates of Penzance is fun for the entire family with a hilarious story involving sentimental pirates, blundering policemen, absurd adventures, and improbable paradoxes. Young Frederic was apprenticed to a band of tenderhearted, orphaned pirates by his nurse who, being hard of hearing, had mistaken her master's instructions to apprentice the boy to a pilot. Frederic, upon completing his 21st year, rejoices that he has fulfilled his indentures and is now free to return to respectable society. The Pirate King is quick to inform Frederic that because he was born in a leap year on February 29, he is not quite yet 21. Thus, he must remain apprenticed to the pirates until his 21st birthday. By the end of the opera, the pirates, a Major General who knows nothing of military strategy, the General's large family of beautiful daughters, and the timid constabulary all contribute to a cacophony that can be silenced only by Queen Victoria's name.
This outstanding musical is a must-see for the entire family.
Wang Opera Center
2408 Linwood Avenue, Naples, FL, USA
(239) 963-9050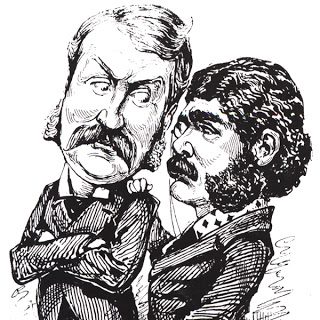 Gilbert and Sullivan
1836–1911 & 1842–1900

Gilbert and Sullivan refers to the Victorian era partnership of librettist W. S. Gilbert (1836–1911) and composer Arthur Sullivan (1842–1900). Together, they wrote fourteen comic operas between 1871 and 1896, of which H.M.S. Pinafore, The Pirates of Penzance, and The Mikado are among the best known.[1]
Gilbert, who wrote the words, created fanciful topsy-turvy worlds for these operas, where each absurdity is taken to its logical conclusion—fairies rub elbows with British lords, flirting is a capital offense, gondoliers ascend to the monarchy, and pirates turn out to be noblemen who have gone wrong.[2] Sullivan, seven years younger than Gilbert, composed the music, contributing memorable melodies that could convey both humor and pathos.
Producer Richard D'Oyly Carte brought Gilbert and Sullivan together and nurtured their collaboration.[3] He built the Savoy Theatre in 1881, to present their joint works—which came to be known as the Savoy Operas—and he founded the D'Oyly Carte Opera Company, which performed and promoted their works for over a century.
The Gilbert and Sullivan operas have enjoyed broad and enduring international success and are still performed frequently throughout the English-speaking world.[4] The collaboration introduced innovations in content and form that directly influenced the development of musical theater through the twentieth century.[5] The operas have also influenced political discourse, literature, film, and television and have been widely parodied and imitated by humorists.
Credit: https://www.newworldencyclopedia.org/entry/Gilbert_and_Sullivan