The Pirates of Penzance
Gilbert and Sullivan
Outreach/Education, Performance
Performance Language
English
Opera Naples presents W.S. Gilbert and Arthur Sullivan's operetta The Pirates of Penzance starring students from the Summer Youth Program. Performances are July 23 and 24 at 7:00 p.m. and July 25 at 2:00 p.m. at the Wang Opera Center.
Reserve your seat today. Student tickets are available for $10, and adult tickets are $18. Pricing includes a $3 processing fee. A family four-pack for (2) adults and (2) students is available for $50.
This production will be GENERAL ADMISSION and reduced capacity for our patrons' safety. Our last summer program production was SOLD OUT!  Please purchase tickets in advance to guarantee your seat. Masks are encouraged.
The 2021 Opera Naples Summer Program Director position has been underwritten by Karen Smith, with scholarships funded by William Mears and Thelma Negley.
Stage Director
Louis Dall'Ava has performed 23 principal roles in Gilbert & Sullivan operettas with companies including The New York Gilbert & Sullivan players, Manhattan Savoyards, Sorg Opera (OH) and Mobile Opera (AL), at venues including Wolf Trap, The Garden State Arts Center, and The International G&S Festival in Buxton England. He is the 2005-2006 recipient of NYGASP's Isaac Asimov Award for Artistic Achievement. Among various other musical theater roles, he has performed Charles and the Comte de Chagny on three international tours of The Phantom of the Opera and was named Best Actor in a Musical by Bravo Pix for his portrayal of Fagin in Commonwealth Opera's Oliver. He has also been the director and costume/set designer for numerous productions throughout the country and has been involved with Opera Naples in various capacities including directing youth productions, costumes, props, and performing since 2005.
Music Director
Robin Shuford Frank is Chorus Master, Music Administrator, and Director of Educational Outreach for Opera Naples, for which she also serves as Musical Director for youth productions. She engages Southwest Florida's youth through the company's Student Apprentice Program, community outreach performances, Elementary In-School Tours, and Young Artist Program. An accomplished pianist, she serves as the rehearsal pianist for Opera Naples' main productions as well as the pianist for community concerts and events. As chorus master, she prepares the adult and children's choruses for all productions in which they appear. She is also the company's orchestra personnel manager and librarian. Aside from her work with Opera Naples, Frank is the accompanist for The Festival Singers of Florida and also frequently performs with the Naples Philharmonic Orchestra and The Naples Players.
Prior to moving to Naples, Frank was an Adjunct Professor at Palm Beach Atlantic University, a rehearsal pianist for Palm Beach Opera, an Artist in Residence for Bak Middle School of the Arts, and a Pianist/Coach for Opera New Jersey. Frank has been an Adjunct Professor at Florida Gulf Coast University in the Bower School of Music since 2009. She has a Masters degree from Westminster Choir College in Accompanying and Vocal Coaching and a Bachelors degree in Music Education from The Florida State University
July 23, 2021 7:00 pm - 8:30 pm
Ticket Type
Price
Cart
Pirates of Penzance - Friday - Student Ticket

$

10.00
Pirates of Penzance - Friday - Adult

$

18.00
Pirates of Penzance - Friday - Family 4 Pack (2 Adult/2 Student)

$

50.00
July 24, 2021 7:00 pm - 8:30 pm
Ticket Type
Price
Cart
Pirates of Penzance - Saturday - Family 4 Pack (2 Adult/2 Student)

$

50.00
Pirates of Penzance - Saturday - Adult

$

18.00
Pirates of Penzance - Saturday - Student Ticket

$

10.00
July 25, 2021 2:00 pm - 3:30 pm
Ticket Type
Price
Cart
Pirates of Penzance - Sunday - Family 4 Pack (2 Adult/2 Student)

$

50.00
Pirates of Penzance - Sunday - Adult

$

18.00
Pirates of Penzance - Sunday - Student Ticket

$

10.00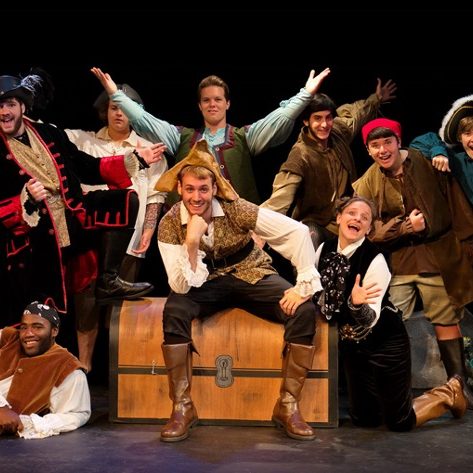 One of Gilbert and Sullivan's finest, The Pirates of Penzance is fun for the entire family with a hilarious story involving sentimental pirates, blundering policemen, absurd adventures, and improbable paradoxes. Young Frederic was apprenticed to a band of tenderhearted, orphaned pirates by his nurse who, being hard of hearing, had mistaken her master's instructions to apprentice the boy to a pilot. Frederic, upon completing his 21st year, rejoices that he has fulfilled his indentures and is now free to return to respectable society. The Pirate King is quick to inform Frederic that because he was born in a leap year on February 29, he is not quite yet 21. Thus, he must remain apprenticed to the pirates until his 21st birthday. By the end of the opera, the pirates, a Major General who knows nothing of military strategy, the General's large family of beautiful daughters, and the timid constabulary all contribute to a cacophony that can be silenced only by Queen Victoria's name.
This outstanding musical is a must-see for the entire family.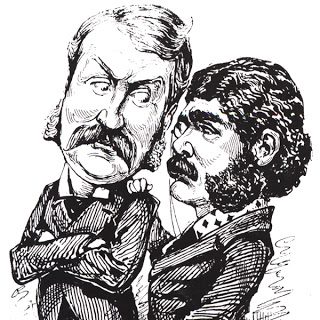 Gilbert and Sullivan
1836–1911 & 1842–1900

Gilbert and Sullivan refers to the Victorian era partnership of librettist W. S. Gilbert (1836–1911) and composer Arthur Sullivan (1842–1900). Together, they wrote fourteen comic operas between 1871 and 1896, of which H.M.S. Pinafore, The Pirates of Penzance, and The Mikado are among the best known.[1]
Gilbert, who wrote the words, created fanciful topsy-turvy worlds for these operas, where each absurdity is taken to its logical conclusion—fairies rub elbows with British lords, flirting is a capital offense, gondoliers ascend to the monarchy, and pirates turn out to be noblemen who have gone wrong.[2] Sullivan, seven years younger than Gilbert, composed the music, contributing memorable melodies that could convey both humor and pathos.
Producer Richard D'Oyly Carte brought Gilbert and Sullivan together and nurtured their collaboration.[3] He built the Savoy Theatre in 1881, to present their joint works—which came to be known as the Savoy Operas—and he founded the D'Oyly Carte Opera Company, which performed and promoted their works for over a century.
The Gilbert and Sullivan operas have enjoyed broad and enduring international success and are still performed frequently throughout the English-speaking world.[4] The collaboration introduced innovations in content and form that directly influenced the development of musical theater through the twentieth century.[5] The operas have also influenced political discourse, literature, film, and television and have been widely parodied and imitated by humorists.
Credit: https://www.newworldencyclopedia.org/entry/Gilbert_and_Sullivan