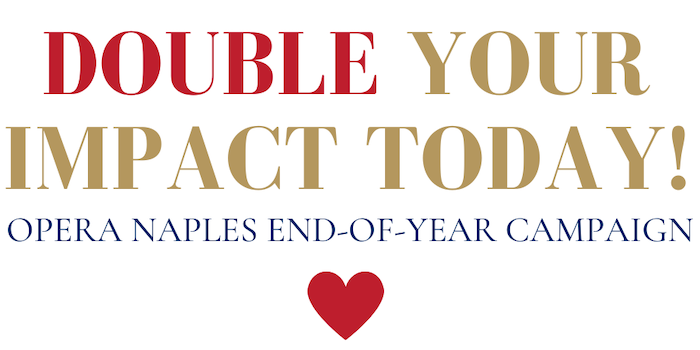 Strike the match! Thanks to the generosity of long-time donor and Chairwoman, Wendy Needham, we are setting off our end-of-the-year match campaign with a bang! As Wendy approaches the end of her tenure as Board Chair, she wanted to help ignite the passions of our growing audience by creating a bigger impact.
When you show your passion for opera through December 31st, your donation will be doubled up to $50,000!
Cash Gifts
Your tax-deductible unrestricted do­nations, large and small, make it possible for Opera Naples to continue its mission, its many artistic and educational programs and ongoing improve­ments to the Wang Opera Center. We couldn't do it without you!
Recurring Gifts
Opera Naples now offers recurring gifts. Giving  has never been easier! Make your gifts to Opera Naples quarterly, monthly, or as often as you'd like. Your donation will be auto­matically deducted from a bank account or charged to your credit card. Simply select how often you would like to make your gift and let our system do the rest.
Legacies
Create a legacy through a bequest and solidify the future of opera in Southwest Florida. Wording of the legacy in a Will can be very simple, and can include gifts of property. In addition, legacy giving can create tax benefits for your loved ones.
Pledges
Receive donor benefits right away based on the pledge of a gift.
Outright Gift of Publicly-Traded Securities
When you donate shares of stock that you have held for more than 12 months (or inherited), you get a deduction for the value of the gift. You do not pay income tax on the increase in value between the time you bought the stock and the time of the gift. Thus, it's better to give away stock (that has increased in value) than to sell the stock and give away the proceeds.
Honor a Loved One
Nothing says that you appreciate the difference an individual has made to you or the community like honoring them through a donation. Make a donation in their name or memory and still receive 100% of the tax benefits!
Matching Gifts
Did you know that you may be able to double your donation to the Opera? Many companies and foundations match employee and retiree donations to non-profit organizations such as Opera Naples! Check with your company or foundation to see if it's possible that your gift can go twice as far!
Underwriting Opportunities
Cover the cost of an artist ($10,000-$25,000), a costume ($5,000), an entire opera production ($50,000-$225,000), an elementary school performance ($3,000- $5,000), a youth student apprenticeship ($1,000), the Summer Youth Program production ($10,000), a Resident Artist ($15,000-$20,000)… your gift makes the opera come alive!
Opera Naples Academy Scholarship Fund
Academy participants come from all over the world and many use scholarships to help defray the cost of travel, housing, and program fees. A donation of $2,500 provides a full scholarship.
VetTix
Opera Naples gives tickets to military fam­ilies and veterans through VetTix.com. Donate to help us continue making memories for those who serve our country. (Average $65 per ticket)
For all individual donations please contact: 
Carla Calavitta | Development Director
ccalavitta@operanaples.org
(239) 963-2050
To make a donation by check please mail your check to:
Opera Naples, Inc.
2408 Linwood Ave
Naples, FL 34112
Virtuoso
$400 - $1,499
All the benefits of Membership +
Recognition on NEW digital donor wall at WOC (coming 2022)
Concierge Ticketing
Invitations to dress rehearsals
Access to THE L'OST BAR pre-show and at intermission at WOC
Invitation to Donor Open Haus (Autumn)
Millennium Club
$1,500 - $2,499 INDIVIDUAL/COUPLE
All the benefits of Virtuoso +
Priority access to ticketing and seating before general public
Invitations to artist meet & greets
Patron
$2,500 - $9,999
All the benefits of Millenium Club +
Lunch with the Directors (Artistic Director & Executive Director)
Underwriting opportunities for events
Grand Patron
$10,000 - $24,999
All the benefits of Patron +
Dinner with the Directors (Artistic Director & Executive Director)
Underwriting opportunities for events and artist performances
Donor recognition in printed annual materials
Producer
$25,000 - $49,999
All the benefits of Grand Patron +
Underwriting opportunities for events, artist performances, opera productions
Opportunity to meet sponsored artists
Legacy Donors
$50,000 +
All the benefits of Producer +
Opportunity to be a lead underwriter for major production with Opera Naples
Lifetime Donors - Cumulative
$100,000 +
All the benefits of Legacy Donors +
Permanent placement on Donor Wall
Naming rights opportunities
Virtuoso
$400 - $1,499
All the benefits of Membership +
Recognition on NEW digital donor wall at WOC (coming 2022)
Concierge Ticketing
Invitations to dress rehearsals
Access to THE L'OST BAR pre-show and at intermission at WOC
Invitation to Donor Open Haus (Autumn)
Millennium Club
$1,500 - $2,499 INDIVIDUAL/COUPLE
All the benefits of Virtuoso +
Priority access to ticketing and seating before general public
Invitations to artist meet & greets
Patron
$2,500 - $9,999
All the benefits of Millenium Club +
Lunch with the Directors (Artistic Director & Executive Director)
Underwriting opportunities for events
Grand Patron
$10,000 - $24,999
All the benefits of Patron +
Dinner with the Directors (Artistic Director & Executive Director)
Underwriting opportunities for events and artist performances
Donor recognition in printed annual materials
Producer
$25,000 - $49,999
All the benefits of Grand Patron +
Underwriting opportunities for events, artist performances, opera productions
Opportunity to meet sponsored artists
Legacy Donors
$50,000 +
All the benefits of Producer +
Opportunity to be a lead underwriter for major production with Opera Naples
Lifetime Donors - Cumulative
$100,000 +
All the benefits of Legacy Donors +
Permanent placement on Donor Wall
Naming rights opportunities