West Side Story – Symphony Concert Version
Leonard Bernstein
Festival, Performance
Performance Language
English
Inspired by Shakespeare's Romeo and Juliet, West Side Story is a 1957 musical composed by Leonard Bernstein with lyrics by Stephen Sondheim. It is set against an urban background of interracial warfare with many of its themes still fully resonating today.  The unfiltered treatment of the social problems of that time with such pointed, sophisticated music, make this work a piece of truly groundbreaking importance. Considered as one of Bernstein's greatest achievements as a composer, this exhilarating, quasi-operatic score constantly keeps tensions and emotions high.  Don't miss an opportunity to hear this timeless masterpiece with some of musical theater's most recognizable tunes that will surely have you dancing in the aisles.
Book by ARTHUR LAURENTS
Music by LEONARD BERNSTEIN
Lyrics by STEPHEN SONDHEIM
Based on a Conception of JEROME ROBBINS
West Side Story is presented through special arrangement with Music Theatre International (MTI). All authorized performance materials are also supplied by MTI. www.MTIShows.com
March 12, 2021 7:00 pm - 9:00 pm
Baker Park
50 Riverside Cir, Naples, FL 34102, USA
(239) 263-2673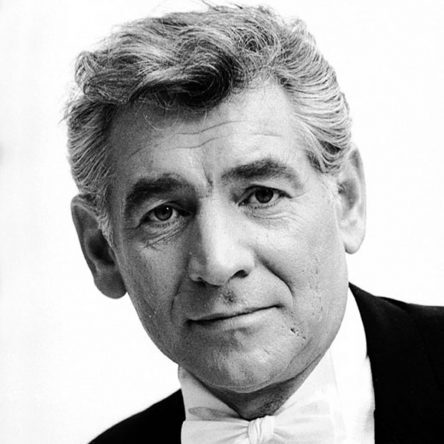 Leonard Bernstein
August 25, 1918 - October 14, 1990

Leonard Bernstein was an American composer, conductor, author, music lecturer, and pianist. He was among the first conductors born and educated in the U.S. to receive worldwide acclaim. His fame derived from his long tenure as the music director of the New York Philharmonic, from his conducting of concerts with most of the world's leading orchestras, and from his music for West Side Story, Peter Pan, Candide, Wonderful Town, On the Town, On the Waterfront, his Mass, and a range of other compositions, including three symphonies and many shorter chamber and solo works. As a composer he wrote in many styles encompassing symphonic and orchestral music, ballet, film and theatre music, choral works, opera, chamber music and pieces for the piano. Many of his works are regularly performed around the world, although none has matched the tremendous popular and critical success of West Side Story.